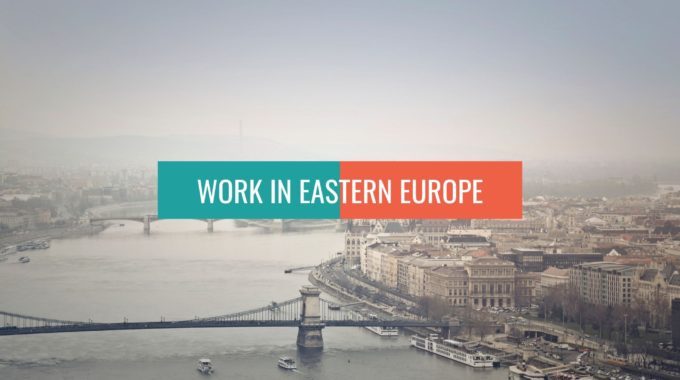 In our globalized and digital connected world it is not unusual to go abroad for work for a certain period of time or even for longer. The usual directions for a job abroad are booming cities and economically important locations, like the US, Singapore or Dubai. But why don't you consider something closer, less exotic, like Eastern Europe. The East is not really popular for working there, but there are a lot of advantages why you should definitely give it a try. So here's our 5 reasons for working in Europe's beautiful, but underrated East.  
Boost your career
A lot of big companies and global players moved with their offices or departments to the East. You can find, for example offices of Shell in Krakow or Amazon in Bratislava. So either if you are just moving for seasonal jobs abroad or if you would like to stay for longer, there is a chance that your potential is recognized and becomes essential so that you might climb the career ladder. Settlements of big companies in Eastern Europe often lack of competent and well skilled leaders. Grab your chance, and become one of them! 
Working Atmosphere 
The atmosphere at work depends from country to country and company to company - of course. But in general, Eastern Europe's mentality is considered to be more loose and familial than in the western countries. If you are not a friend of a too strict and too formal working atmosphere then Eastern Europe might be the right work destination for you. Moreover, the people from Eastern Europe tend to not linger over small-talk about the weather for too long. For example, especially the inhabitants of the Balkan-States are considered to be direct and authentic.
Close connected to the previous mentioning is the fact, that hierarchies in Eastern Europe tend to be less steep. This concept also contributes to creating a friendlier work atmosphere and better or easier communication streams amongst the different levels.

Lower living costs
When it comes to ordinary living costs like rent, groceries or transportation, Eastern Europe has one big advantage: it is super cheap. Of course, there are slight differences between the different states, for example Poland and the Czech Republic aren't as cheap anymore as those, that are further East, like Romania or the Ukraine. 
Travel beautiful cities and sceneries
For travel-lovers, Eastern Europe has so much to offer: beautiful beaches and islands in Croatia, underrated Montenegro with it's marvelous National Parks and mountain landscapes, old and cobbled Cities of Krakow and Wroclaw in Poland, impressive and shiny Budapest, hot and dynamic Sofia and wonderful Odessa at he Black Sea. You won't run out of destinations to go to while you're working in Eastern Europe. On top of that: Everything is easily reachable by car and often also by train, so that you can make the most of your weekends!
Improve your skills
Speaking another language is always an added value to your life. Take the chance during your seasonal work abroad and start learning a new language. Especially the languages of the Balkan states are advantageous, because if you can speak one of them, you usually can make use of it in all the others.
In general, during your job abroad you will not only improve your academic skills, but also reach a better confidence and self-consciousness. That will help you to perform under pressure and strengthen your abilities in problem-solving.