ACCOMMODATION IN BARCELONA
Stud&Globe gives you tips and information to help you find accommodation in Barcelona. There are a few things to consider before booking your shared flat as Barcelonaoffers many options for people with a thirst for exchange and adventure!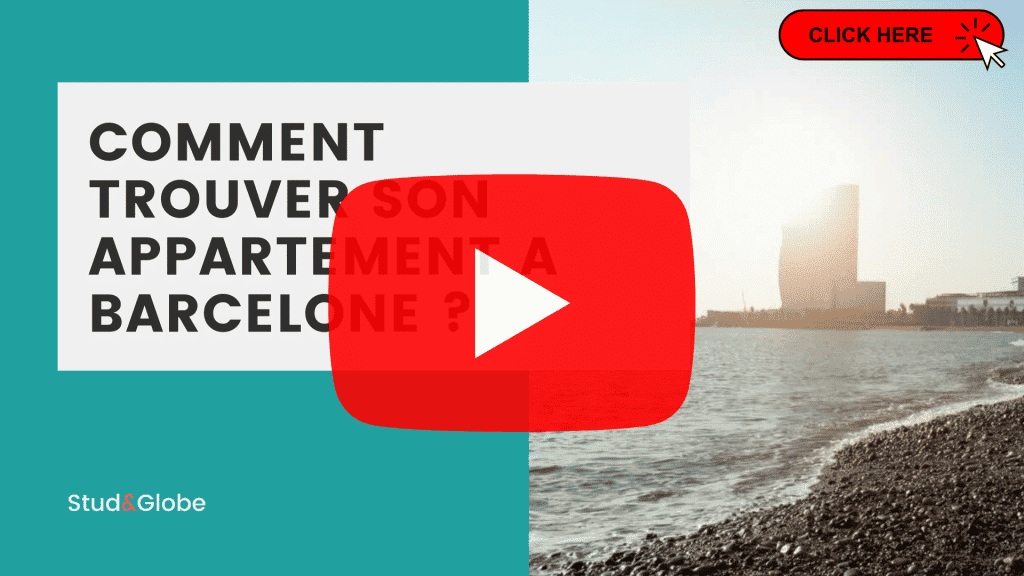 The first thing to do is to decide what type of accommodation you prefer: a residence, a flat, a room in a shared flat, accommodation with a family or a youth hostel.
If you want to live with other students from all over the world while enjoying a high degree of independence. The sites listed below are for you and specialise in short-term accommodation, but also offer long-term flats and monthly stays.
BENEFITS OF SHARING
Sharing a flat gives you several advantages such as learning a foreign language and immersing yourself in the local culture. Moreover, a student arriving in Barcelona for the first time does not necessarily know many people. Therefore, sharing a flat will help you to meet more people and to grow in the city. Finally, opting for a shared flat will cost you two to three times less than renting a flat from an agency.
ADMINISTRATIVE PROCEDURES FOR RENTING YOUR HOME IN BARCELONA
AGENCY FEES
Mostflats in Barcelona are rented through estate agents, so you will have to pay a fee of about one month's rent. We therefore advise you, if possible, to be in direct contact with an owner, in order to save these agency fees.
THE CONTRACT
Stud&Globe advises you to sign a rental contract. It should be noted that the rental agreement for a room in a shared flat is usually a fairly informal agreement with the owner. When signing this document, it is important to understand the terms and conditions, so if you do not speak Spanish, get help from a friend who does. You will also need your identity card when you sign.
THE GUARANTEE
Whether you go through an agency in Barcelona or directly through a landlord, you should pay a deposit that never amounts to more than two months' rent.
The monthly rent is always paid at the beginning of the month.
FURNISHING
In the case of shared flats, the rooms are often furnished, but the furniture is usually poor. Stud&Globe advises you to visit one of the three IKEA shops in Barcelona to give more life to your room.
ACCOMMODATION IN BARCELONA
Stud&Globe advises you to come one week before the beginning of your internship in order to visit different flats and make your choice in all tranquillity and avoid the numerous online scams.
WEB SITES
Below you will find several sites that offer students accommodation options in Barcelona:
Long-term rental site. Many real estate agents and owners advertise their flats on this site. There are property listings all over Spain and many in Barcelona. It is also possible to do a more advanced search by neighbourhood. Each property listing usually includes several photos and sometimes even a video and most people speak English.
Site that lists long-term accommodation. However, the site is only available in Spanish. You will therefore need to be able to speak at least some of the language to communicate with landlords and estate agents.
Offers flats in Barcelona for students with the same cosmopolitan, creative and sophisticated spirit of the city. Melon District Residence Hall offers rooms with modern, designer facilities and a full range of services. It is possible to rent a room in a student flatwith private bathroom and shared living, kitchen and dining room.
Intermediary between clients and owners. Different types of accommodation are located in 10 different areas of the Urgell building. It has free Wi-Fi.
Wide selection of flats specialising in monthly rentals. The site offers a variety of long-term and fully equipped flats. Their rental flats in the best areas of Barcelona, and they have a fantastic selection of flats in La Barceloneta, as well as in the Eixample and the Gothic Quarter.
Offers one of the easiest ways to book online. This allows you to have your house sorted out before you arrive in Barcelona. Spotahome is a platform designed for direct rental hosting for more than one month.
When choosing accommodation for your internship in Barcelona, it is important to choose a neighbourhood that will meet your expectations. In this article, Stud&Globe takes you on a tour of the main districts of the Catalan capital to help you make your choice.
Barcelona is divided administratively into districts, which in turn are divided into neighbourhoods. Prices for a shared room vary between €300 and €500 per month depending on the popularity of the area and its connection to transport networks.
EL BORN, LE GOTICO AND LE RAVAL: THE OLD TOWN
The historic centre of Barcelona is for you! Typical for its traditional architecture made of old stones and small lively streets, for its famous Ramblas and pedestrian streets, it is located in the city centre. A cosmopolitan and effervescent district, it is popular with students and is one of the most festive and touristy areas of the city.
LA BARCELONETA: THE OLD SEAFARERS' AND FISHERMEN'S QUARTER
Located between the Old Port and the Olympic Port, the Barceloneta district runs along the seafront while remaining close to the city centre. Famous for its "chiringuitos" (beach bars), it is full of restaurants specialising in tapas, paellas and seafood. It is one of the most popular areas for tourists during the summer months!
GRACIA: A VILLAGE IN THE CITY
It is the "bohemian" district of Barcelona, one of the most coveted by the locals because of its craft shops, bars and terraces, cultural activities but also because of the charm of its alleys and its architecture. Located on the outskirts of the centre, with little tourism, it has a typical Catalan atmosphere. Its popularity makes it one of the most expensive areas in the city.
EIXAMPLE: RESIDENTIAL AND MODERN AREA
This area of modernist architecture, non-touristy and within easy walking distance of the city centre, is a good choice to avoid the noise and tourists of the old town. It is full of housing opportunities and remains one of the best value areas.
POBLE NOU: A FAMILY-FRIENDLY NEIGHBOURHOOD
A new and fashionable district, close to the beach, this area is in the process of being converted: a former industrial zone, it is constantly being reinvested and reinvented and is becoming the city's chic trend. A little further from the city centre but with good public transport links and close to the beach, you will find cheap accommodation.