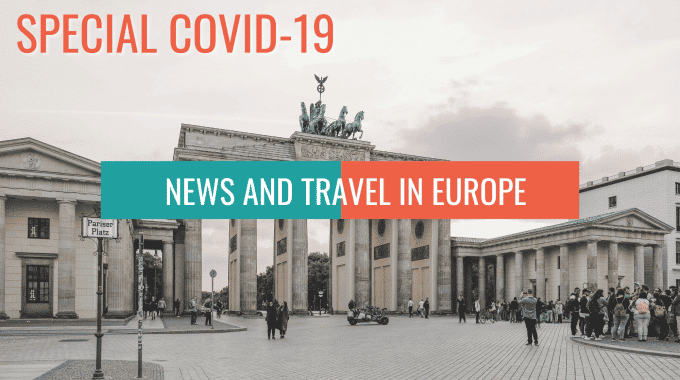 You've been looking forward to it, and so have we! Erasmus+ stays will finally be available in the next few months. After a year of waiting, and a more than complicated situation for French students, Stud&Globe is delighted to offer new Erasmus+ internship opportunities in Europe.
Many European countries are starting to reopen their borders and economic activity is slowly returning to normal. Good news for students eager to experience and travel !
However, after this eventful year, we all know that the situation remains complex. In 2021, it is strongly recommended that you surround yourself with professionals in the sector for the organisation of your future mobilities. Restrictions are changing daily across Europe and it can be difficult to organise an Erasmus+ project in such a context.
You will need to be able to use the following information to help you make the right choice.
Beforehand, our team has gathered all the essential information in this article, starting with the entry conditions by country and then the conditions for returning to France.
ENTRY REQUIREMENTS BY COUNTRY
SPAIN
For each entry into Spanish territory, by sea, air or land, it is necessary to present one of the following documents, in digital or paper format:
EU digital Covid certificate including one of the proofs listed below.
Certificate of full vaccination against Covid-19 for at least 14 days, stating the date of vaccination, the vaccine administered and the country of vaccination.
Certificate of screening test for active infection, with negative result, issued within 48 hours (antigenic test) or within 72 hours (pcr test) prior to arrival in the country.
Certificate of recovery of Covid-19, valid from the 11th day after the first positive diagnostic test.
For air and sea travellers, a form is also to be completed online and presented in the form of a QR code.
GERMANY
As of 16 June 2020, entry restrictions to Germany have been lifted and free movement has been restored. However, Germany still imposes 4 entry measures for European visitors:
Register on the official German website before entering the country
Present one of the following documents when boarding and entering the country.
Negative result of a PCR test carried out at the latest 24 hours before entry into the country
Proof of recovery of COVID-19 (e.g. positive PCR test older than 28 days, but less than 6 months)
Certificate of vaccination indicating that the last injection was given at least 14 days before entering the country.
Mandatory 10-day quarantine for those not fully vaccinated or cured. (note: quarantine may be terminated early after 5 days upon registration of a second negative test, performed at least 5 days after arrival).
Inform the health authorities of any symptoms.
MALTA
To travel to Malta, all travellers must have a full vaccination.
Note that the local health authorities consider that a complete vaccination cycle must include two injections of a vaccine recognised by the European Medicines Agency (Pfizer, Moderna, Astra Zeneca) with a delay of +14 completed days after the second injection, and, for the Johnson and Johnson vaccine, the only injection +14 completed days
If the traveller is not vaccinated or has only received a single dose, he/she will be obliged upon arrival to undergo a 14-day quarantine in a hotel chosen by the Maltese authorities and at the traveller's expense (100 euros per night, i.e. 1400 euros in total).
If you have received both doses, but arrive in Malta before 14 days have passed after your 2nd dose, you will have to undergo a full 14-day quarantine (not the remaining number of days).
ATTENTION: Persons who have received only one injection after a Covid recovery (except Johnson and Johnson vaccine) are not considered fully vaccinated by the Maltese authorities. In order to enter Malta, they will also have to present proof of recovery less than 6 months old and proof of injection of the first dose older than 14 days)
Prior to arrival at Malta Airport, all travellers are required to complete and submit the Passenger Location Form: complete the form online.
IRELAND
Before arriving in Ireland, all travellers are required to complete and submit a Passenger Tracking Form in which you can indicate whether you are in possession of :
Proof of vaccination.
Evidence of recovery from COVID-19 in the last 180 days.
Proof of a negative RT-PCR test within 24 hours of arrival in Ireland.
The form will be checked before you leave for Ireland by your airline or ferry company.
On arrival in Ireland, spot checks may be carried out on your DCC (EU digital COVID certificate), proof of vaccination and/or negative RT-PCR test.
Caution :
Unlike France, a single dose of vaccine for people cured of COVID is not sufficient to meet the criteria for full vaccination under the rules established in Ireland, which only validates a full course of vaccination after two injections of vaccine.
GREECE
Upon arrival in Greece, all travellers must be able to present the following documents when boarding or crossing the border :
Online form completed at the latest before boarding or crossing the border.
Proof of full vaccination.
Vaccination is considered complete 14 days after the second dose of the vaccine. For the Johnson & Johnson vaccine, vaccination is considered complete 14 days after the single dose. Accepted vaccines are : Pfizer BioNTech, Moderna, Astra Zeneca/Oxford, Novavax, Johnson + Johnson/Janssen, Sinovac Biotech, Gamaleya (Sputnik), Cansino Biologics, Sinopharm.
Or proof of recovery from COVID-19 (valid for 9 months from the 20th day before the first positive result).
Or a negative result to a COVID-19 test. All PCR tests must be performed within 24 hours of arrival and antigenic tests within 48 hours of arrival. Both types of tests are accepted.
CAUTION : Upon arrival in Greece, you may be subject to random screening via an antigen test. If this test proves positive, you will be obliged to undergo a 14-day quarantine set by the Greek Civil Protection services. The costs of this quarantine, including hotel accommodation, will be covered if the authority places you in quarantine. However, the costs of changing hotel and transport reservations will not be covered.
SWEDEN
There is a ban on all non-essential travel to Sweden from most non-EU countries in force until 31 October. However, nationals and residents from the EU or one of the Schengen countries are not affected by this measure.
In addition to this measure, in order to enter Sweden, anyone aged 18 or over must be able to present one of the following documents:
Full vaccination certificate
Certificate of a negative PCR test for less than 72 hours before entry
Certificate of recovery to COVID-19
CONDITIONS OF RETURN TO FRANCE
All entry into France is regulated according to a classification of countries.
All entry into France is regulated according to a country classification.
To date, the classification is as follows:
Green countries/territories: These are the countries in the European area, plus Argentina, Australia, Bahrain, Canada, Chile, Comoros, Hong Kong, Japan, Jordan, Kuwait, Lebanon, New Zealand, Qatar, Rwanda, Saudi Arabia, Senegal, South Korea, Taiwan, Uruguay and Vanuatu.
Orange countries/territories: Grouping all countries/territories not included in the lists of Green and Red countries/territories.
Red countries/territories: Afghanistan, Brazil, Costa Rica, Cuba, Georgia, Moldova, Montenegro, Pakistan, Russia, Serbia, Suriname and Turkey.
Please note: all screening tests carried out for administrative reasons (e.g. when travelling) or medical reasons (presence of symptoms) will be fully covered by the social security system, provided that the European Health Insurance Card is presented.
In the case of Spain, there are a number of testing sites available for French people visiting the country. In order to ensure that the test is carried out within the allotted time, you will need to make an appointment at one of the screening centres. Here are some websites where it is possible to make an appointment:
If you have any questions about Erasmus+ stays and the conditions of entry and placement, please contact our experts directly.