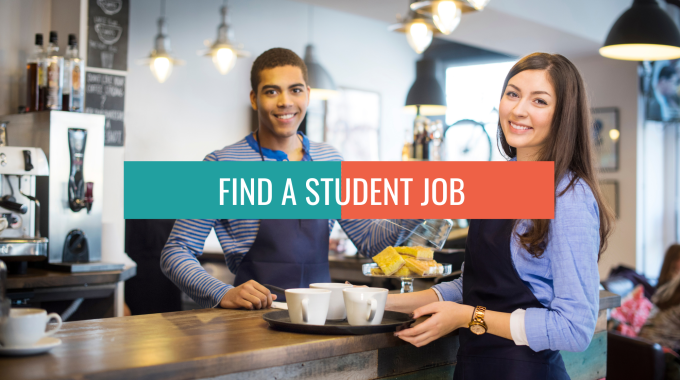 Cool ! You have been accepted for an Erasmus course for the coming school year. The small concern is that you are afraid of having too many expenses and you would like to find a part-time job to make some pocket money. Even if you study finance or marketing at undergraduate or graduate level, you may not find a part-time job in this field. Don't worry, we'll give you some tips on how to find astudent job abroad (even if you don't speak the local language).
1. Waiter or barman
Waiting tables in a restaurant or bar is one of the best ways to earn pocket money and learn a foreign language. These jobs are affordable because they don't require professional experience, they only require energy and a smile. It's quite feasible, isn't it? This is an excellent opportunity toimprove your language skills as you will be in constant contact with customers. If you can't speak the language at all when you arrive, don't worry as you will have the opportunity to work in positions that do not require direct customer contact. Once you are more comfortable speaking, you will be able to move to another position to practice more with the locals. In many cases you will have the choice of working during the week, after school or at the weekend. So it depends on your routine, as studying and working during the week can be quite tiring! Or you can choose to work only during your school holidays on a full-time basis. The best way to apply for a job in this sector is to print your CV and drop it off at the bar or restaurant. Take an afternoon to tour the city's establishments. You will have the opportunity to discuss your availability with the manager.

2. Customer advisor in call centre
When you are abroad, your native language is a real skill for some companies, especially call centres. You can find call centres all over the world offering different projects. The jobs are also varied, but you can do customer advice, consulting or quality analysis. If you are applying for a position as a customer advisor, you will be responding to requests from French customers by telephone, chat and email. This could be, for example, managing customer after-sales requests or informing customers about a product or service. The advantage of working in a call centre is that you will be quite comfortable because you will be working in your native language. You will meet other French people and also international students, who like you, work part-time to finance their studies. To apply, you can consult job search sites or go directly to the institution and submit your CV and covering letter. You will probably have to take tests to prove your ability to speak French. Here too, you can choose your hours to suit your student schedule.
3. Tutor
Many foreign students dream of being able to speak French! And for this, they do not hesitate to call on French students for private lessons. The principle is quite simple: you register on a tutoring platform by filling in some information about your educational background and what you want to "teach". Students interested in your profile can send you a private message to arrange lessons either at your home, their home or in a public place such as a café. This is a really interesting student job because you get to use your mother tongue and help other students to succeed in their studies. Also, it's not physical work so you won't really be tired while teaching. You will just have to organise yourself according to the demands of the students. Financially, it is also very advantageous as you can earn between 18 and 20€ per hour! Let's say you decide to give 4 hours of lessons per week, this will give you a minimum pay of 288€ per month!
If you are planning to work abroad on a long-term basis, you can check out the job opportunities abroad and choose the sector you are interested in!

---