Build your European
mobility Erasmus+ project
with Stud&Globe
Research of companies and work placement,
Organisation of your trip : logistic, accommodations, transports and activities
Management of the administrative tasks and a custom support
TAKING YOUR PROJECTS INTO OUR HANDS
You want us to carry your european mobility project ? Stud&Globe stands out of the others because of its rapidity and disponibility. Here is how we treat your demand :

Getting in touch
Evaluation of your prject with a Stud&Globe consultant

Estimate
Proposition of an estimate to accompany your project

Validation of the estimate
Validation of the project and redaction of the collaboration contract

Project launch
Beginning of the internships and other services research
Research of companies and work placement of the students according to your wishes (type of companies, missions, limit of students per company)
Proposal of accomodation options (host family, hostel, hotel, appartment)
Proposal of transportation means during the mobility (tickets at the best price, airport transfert, public transportation)
Proposal of discovering activities (cultural visits, touristic visits, playful activities)
Proposal of empowering language classes

Reactivity et disponibility 7/7d
Quality focused : evalutation of the internship and the whole mobility

Finding internships that fit students profile

A consultant dedicated to your project

Preparation of a personnalized welcome guide

Administrativ support (internship contracts, Europass...)
Each school has its own mobility project with a determined destination and lingual objectiv. We have some experience in many european countries thanks to european mobility projects we already have accompanied :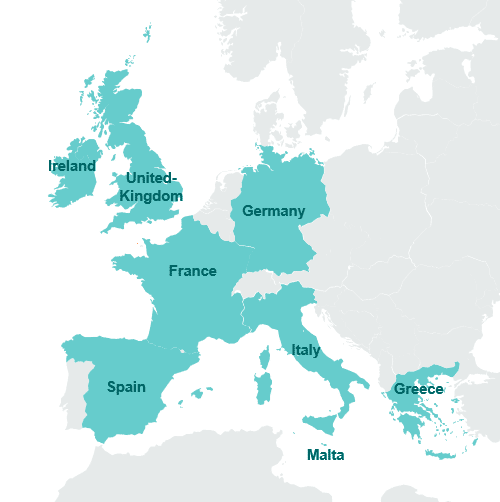 We help schools to find internships in several sectors in order to enable their students to live a rewarding experience related to their studies
Personal care
Hospitality / Food & Beverage
Food industry
Customer service
Management & Administration
Business & Retail
Technical education
Arts and crafts
THE ORGANISATION PROCESS OF YOUR PROJECT
We are a team that is reactiv and available everyday. We are aware that a mobility abroad isn't a long, quiet river. That's why we stay by your side during the whole project, from its organization till your come back home.
"I thank you for accompanying us for the great internships you provided us. Thanks to your company i had one of the best experiences of my life" – A student who is really satisfied –
"My internship abroad with Stud&Globe was a wonderfull experience for me. It was really rewarding and well managed. Perfect !" – A student who really enjoyed her trip –
"Stud And Globe had followed me from the beginning till the end, answering my questions. They helped me to manage the project at a distance and on board by finding the right companies and doing the administrativ tasks with them. They made it possible for my students to live this experience. Thank you !" – A teacher that was happy that she could rely on us –
"They are absolutely wonderful! We have had such positive reactions from them and they are contributing with such a professional and mature manner. We are fortunate to have them with us." – une entreprise qui regrette la courte présence des élèves –
NEED FURTHER INFORMATION ?
You want to get in touch with us to ask for an estimate or just get information ? Send us an email through the contact form with your contact information or call us directly to discuss about your project.